Campus
Kanazawa University has two campuses, Kakuma and Takaramachi-Tsuruma. Kakuma Campus is located in a huge natural setting, and its many orange-tan buildings harmonize with their green surroundings. It offers programs of study in seven faculties: Letters, Education, Law, Economy, Science, Pharmaceutical Science, Engineering, and five schools: Education, Human and Socio-Environment Studies, Natural Science & Technology, Law. It is also the location of the administrative offices of the University.
Takaramachi-Tsuruma Campus is the location of the Faculty of Medicine, and Kanazawa University Hospital with its advanced facilities for diagnosis and treatment, as well as an affiliated cancer Institute. The School of Health Science is located in an area next to the Campus. The Campus is near the downtown core, in the "academic" "Honda-no-mori" culture zone — an area that includes Kenrokuen Garden, Ishikawa Prefectural Museum of Art and Ishikawa-ken History Museum.
Maps
Kanazawa City is located on the Sea of Japan in the middle area of Japan.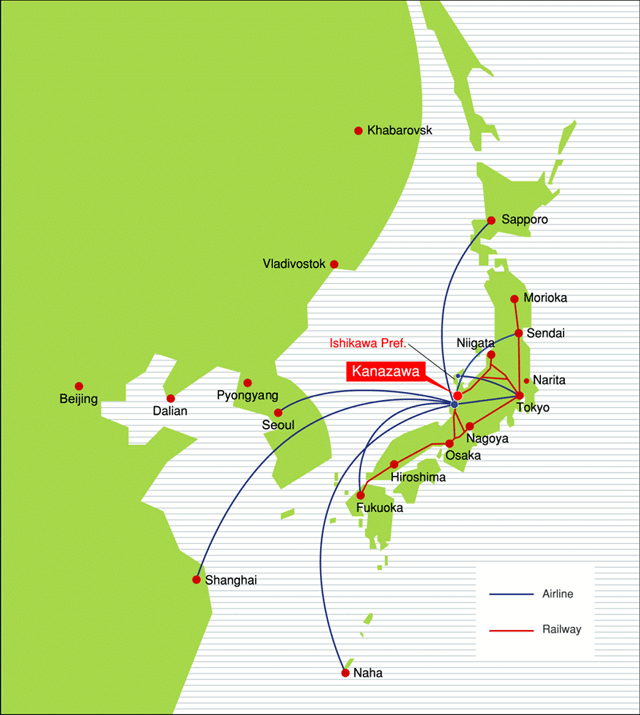 By Airplane:
Approx. 2 hours from Incheon (Seoul) to Komatsu Airport
Approx. 2 hours from Podong (Shanghai) to Komatsu Airport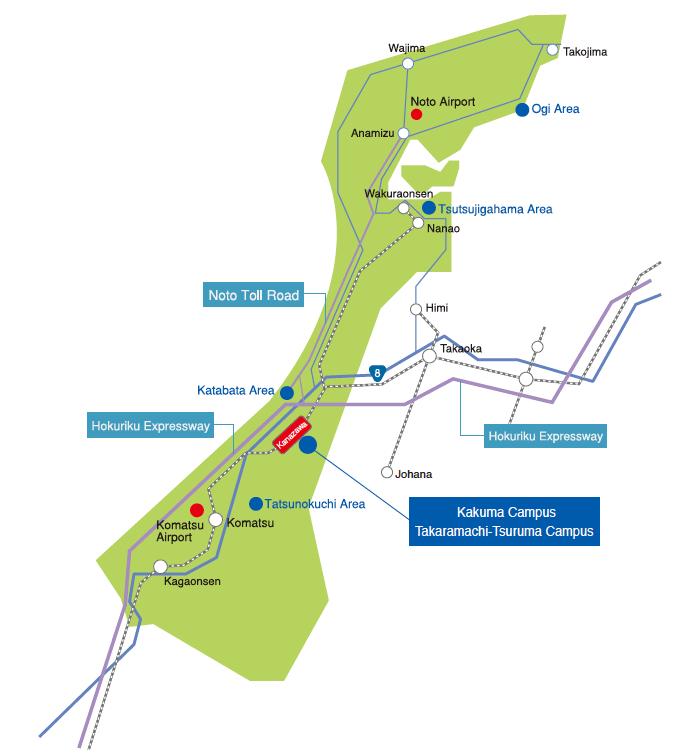 By Airplane:
Approx. one hour from Haneda (Tokyo) to Komatsu Airport
JR Train:
Approx. 2 hours & 30 minutes from Tokyo Station to Kanazawa Station(via Hokuriku-shinkansen)
Approx. 2 hours & 30 minutes from Osaka Station to Kanazawa Station
Approx. 3 hours from Nagoya Station to Kanazawa Station
From Kanazawa Station to Campuses (by Hokuriku Railroad Bus(北陸鉄道バス))
Kakuma Campus
To "Kanazawa Daigaku Shizenken Mae(in front of Natural Science& Technology Hall, 金沢大学自然研前)," "Kanazawa Daigaku Chuo(Kanazawa University Central,金沢大学中央)" or "Kanazawa Daigaku(Kakuma)(Kanazawa University(Kakuma), 金沢大学(角間))" bus stops (Approx. 34-37min)
Catch a bus #91, 93, 94,or 97(Route name is Kanazawa Daigaku(Kakuma) (金沢大学(角間))from Bus Terminal#6, Kanazawa Station Kenrokuen Gate (East Gate).
Takaramachi -Tsuruma Campus
To Kodatsuno(小立野) bus stop (Approx. 20 min)
Catch a bus from
Kanazawa Station Kenrokuen Gate (East Gate)
・Bus Terminal #7・ex.)Bus#11(Route name is Tobu Shako/Kanazawa Gakuin Daigaku/Kanazawa University Hospital(東部車庫・金沢学院大学・金沢大学附属病院)), Bus#12(Route name is Hokuriku Daigaku/Yuwaku Onsen(北陸大学・湯涌温泉))
・Bus Terminal #6・ex.)Bus#13(Route name is Yuyagahara/Iozen(湯谷原・医王山)), Bus#14(Route name is Tagami Jutaku by way of Kinsyo Koukou(田上住宅(金商高校経由)))
Kanazawa Station Kanazawa Port Gate (West Gate)
・Bus Terminal #5・ex.)Bus#10(Route name is Tobu Shako/Kanazawa Gakuin Daigaku(東部車庫・金沢学院大学))